The open-air courtyard at Space 15Twenty will once again host our Pro'jekt LA Summer Series. This installment of projected photographic images has been organized under the theme of Dusk: A Collection of Portraits, Cityscapes and the Night Time Urban Experience as told by 11 photographers that include Thomas Michael Alleman, Ryan Schude, Natalie Franco, Leanne Mueller, Jacviera Estrada, Angelica Hoyos, Cathy Immordino, Troy Paiva, Carl W. Hendle, Bil Zelman and Dove Shore. Music will be provided by DJ Valida of School Nights, KCRW and much more.

Event Details:
Location - Space 15Twenty Courtyard located at 1520 N. Cahuenga Boulevard, Los Angeles, California, 90028.
Time - 8:00 to 10:00 p.m. Projections begin at sunset.
RSVP to summerseries@luciefoundation.org.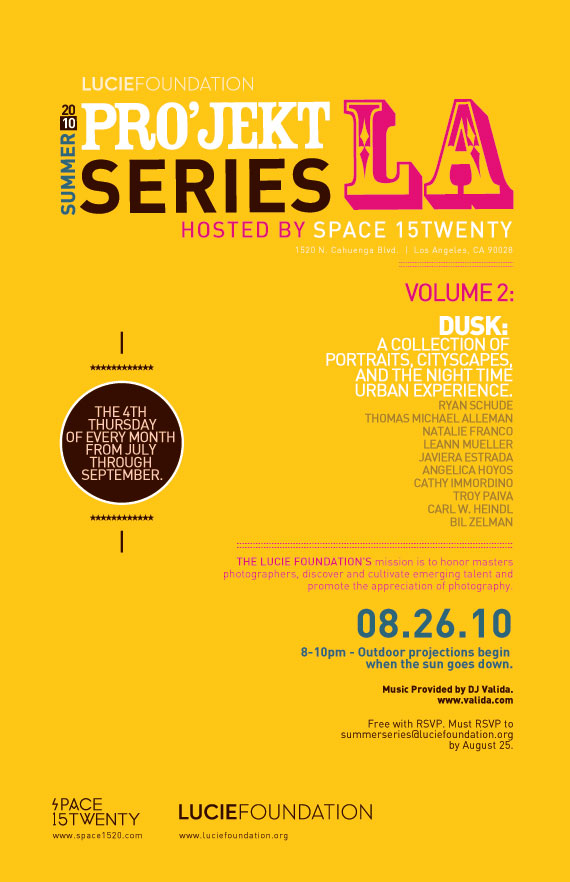 .
The 8th Annual Lucie Awards will take place on Wednesday, October 27 at Lincoln Center's Starr Theatre, in Alice Tully Hall. We'lll pay tribute to master photographers, present the work of the International Photography Awards Finalists, and celebrate those in the creative community who are integral in crafting an image through the six Support Category Awards.

We are accepting submissions online now until August 31st. Nominations will be announced on September 10, 2010.
To submit, click here.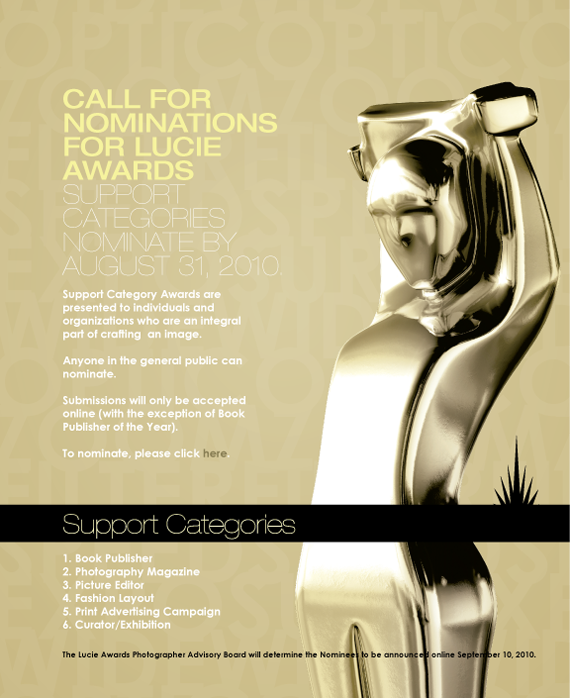 The Lucie Foundation is fiscal sponsor to Sarah Small in her most ambitious performance to date, Tableau Vivant of the Delirium Constructions Part II. Over 120 clothed and nude models will enact a series of living pictures under live direction with original musical arrangements performed by Shara Worden (My Brightest Diamond, The Decemberists) and Brooklyn Balkan a cappella quartet Black Sea Hotel. The Tableau is inspired by her ongoing photographic series, The Delirium Constructions, and is preceded by several small performances that serve as studies for the main event.
The next in the series of Mini-Tableaux is scheduled for September 25 at powerHouse Books during the Dumbo Arts Festival. It will include a live performance and moderated panel discussion.
For more information on the Tableau, and to stay informed about the main event, please visit: www.livingpictureprojects.com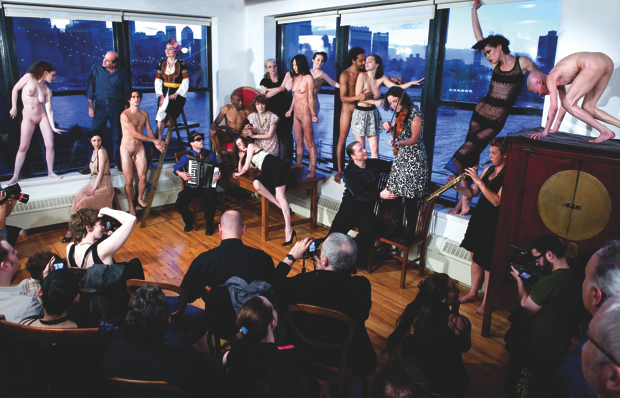 The 8th Annual Lucie Awards will once again take place in Alice Tally Hall's Starr Theatre at the premiere performing arts center of the world, The Lincoln Center. Tickets are now available for purchase. We will most definitely be sold out so please get your tickets while they are still available here.