THE 2011 LUCIE FOUNDATION SCHOLARSHIP IS NOW ACCEPTIING APPLICATIONS.

We are excited to announce that submissions are now open for the 2nd Annual Lucie Scholarships granting one Professional and one Emerging Photographer cash support in the amounts of $5,000.00 and $2,500.00, respectively, to help grow, support and/or complete a specific body of work. Read below for more details and click on the image to apply. In addition to cash support, The Lucie Foundation also features the work of the recipients during the Official Programming of Lucie Week, taking place in October, 2011, preceding the Lucie Awards.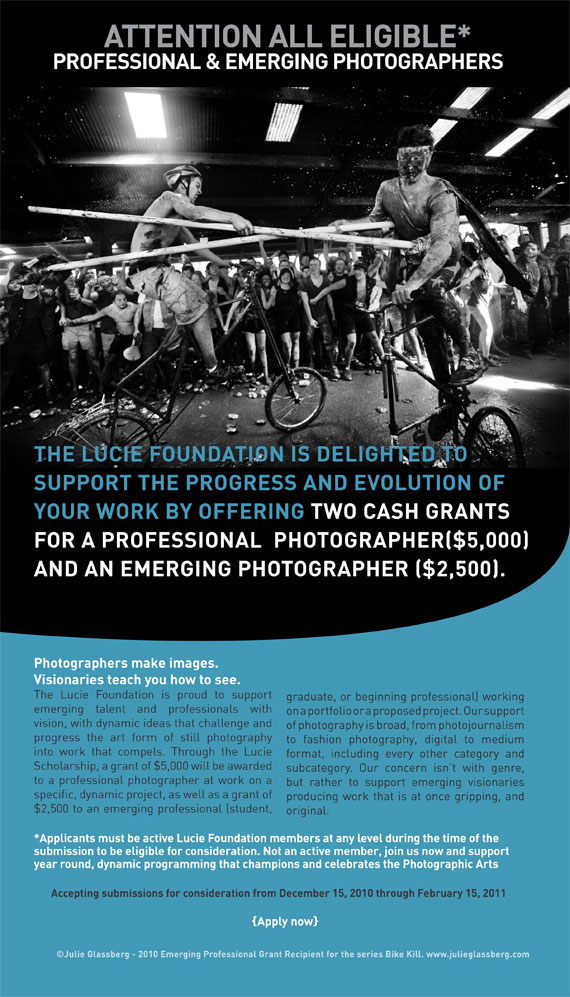 Recognizing that modern technology can bridge any distance gap, E-pprentice, our online mentoring program is designed to connect students, recent graduates and emerging photographers with seasoned professionals for an exchange of ideas, critical thoughts and consistent communications that are necessary at the beginning stages of an image-makers' career. This program is free and open to the public, and we are accepting submissions until January 31, 2011. Please click on the the image to learn more, and apply.




The Lucie Foundation's sister effort, the International Photography Awards, competition is hosting it's second mini-competition with a focus on the ever-changing landscape. Three simples categories and three cash prizes totaling $3,000.00. Our jurors are top editors from photography magazines around the world. Learn more by clicking on the image.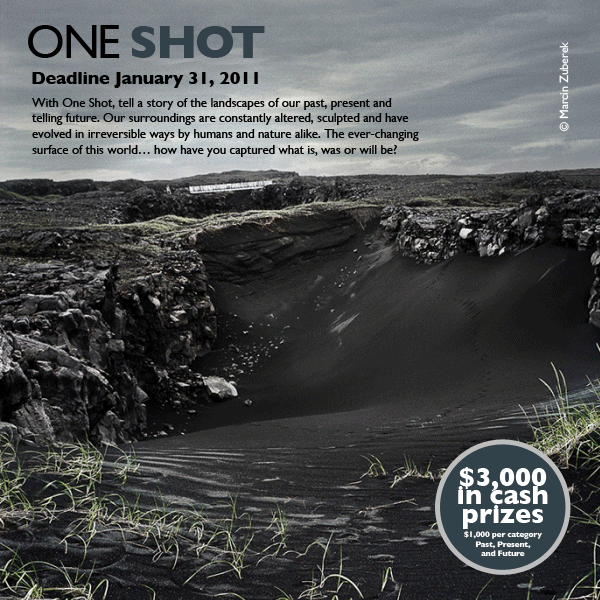 \




Photo LA XX is celebrating it's 20th Anniversary, and is the longest runing art fair webst of New York, and is the largest photo-based art fair in the country. The fair will return to the Santa Monica Civic Auditorium but will include off-site programming, events, seminars and discussions with celebrated artists like Uta Barth and Tim Hetherington. Please click on the graphic to learn more about the programming, and buy tickets.






April 2011 marks the third installment of the Month of Photography Los Angeles and we'll be announcing our Featured Exhibitions and Events, Satellite Exhibitions and Events and month-long, city-wide programming in early January. In the meantime, go ahead and save the MONTH. To see a recap of last year, please click on the image below.

Ourt friends at the Grammy Foundation are presented their 13th Annual GRAMMY Foundation Music Preservation event "Word Revolution: A Celebration of the Evolution of Hip-Hop" will take place on Thursday, February 10th at 7:30pm at the Wilshire Ebell Theater in Los Angeles. The evening will include live performances, presentations, and key footage showcasing seminal interviews and moments in hip-hop's history. Stay tuned for additional details on how to purchase tickets!