2008 INTERNATIONAL PHOTOGRAPHY AWARDS DISCOVERY OF THE YEAR JOHN DELANEY TO HAVE FIRST SOLO EXHIBITION AT THE FARMANI GALLERY, NYC ON FEBRUARY 5, 2009

Pilsner Urquell's Managing Director, Mike Short, announced the winner of IPA's Discovery of the Year, John Delaney, at the 6th Annual Lucie Awards on October 20, 2008. John Delaney, a non-professional photographer but master printer for the likes of Annie Liebovitz and the late Richard Avedon, made a great impression on the 2008 IPA judges and was awarded the cash prize of $5,000.00, the Lucie statuette, and his first solo exhibition at the Farmani Gallery of Contemporary Photography in DUMBO, NYC.

His winning work is comprised of beautiful black and white portraits, shot on film and medium and large format cameras and his subjects are eagle nomads of Mongolia. To see his winning work and some of the images that will show, please click here.

Visit John Delaney's Website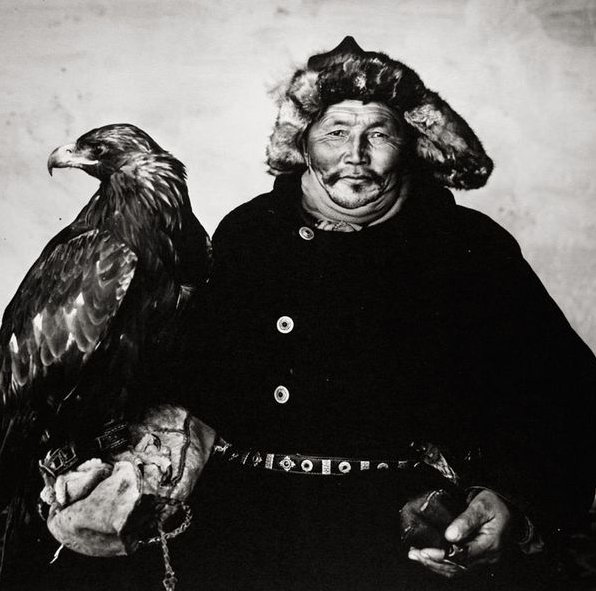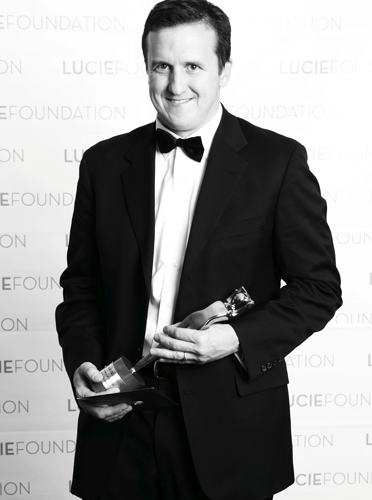 The Lucie Foundation presented it's inaugural Lucie Lectures EAST days leading up to the Lucie Awards. The lectures took place at the new Splashlight SOHO facilities and were very well-attended. The Foundation plans to present Lucie Lectures EAST and WEST each year. Legendary portrait photographer Herman Leonard presented a multi-media presentation with jazz music and imagery to the captivated audience. Nueva Luz Magazine and En Foco, the non-profit dedicated to cultural diversity in photography, along with Aperture Foundation, co-presented the lecture with Sara Terry, founder of The Aftermath Project, (recipient of the 2008 Lucie Humanitarian Award) and Aperture West Book prize winner Hank Willis Thomas.

The Lucie Foundation website will have these lectures available online in early January.
The Lucie Lectures WEST will be presented during The Month of Photography Los Angeles and will feature past and present Lucie Honorees.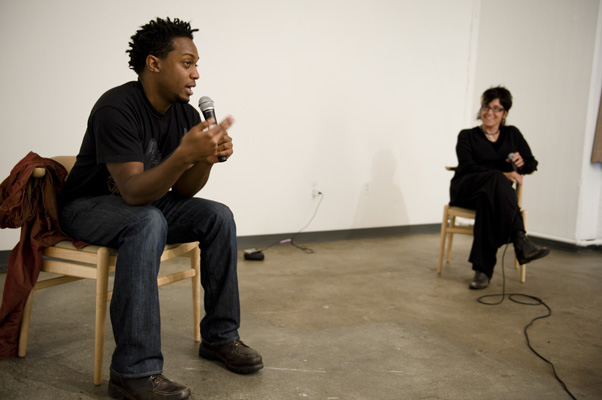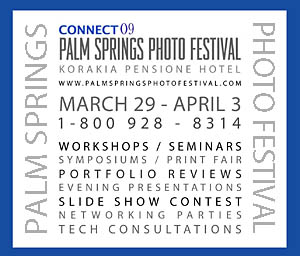 Connect 09 offers the opportunity to MEET top photographers, curators, art directors, editors, gallery directors, ad agency creatives, educators and industry leaders in the spectacular desert environment of Palm Springs, California for this year's Palm Springs Photo Festival. SHOW your portfolios, STUDY with legendary photographers, ATTEND cutting-edge seminars / symposiums and ENJOY evening projections by world famous image makers. NETWORK with the master photographers, industry insiders and your contemporaries at several great evening parties and enjoy the warm Palm Springs weather. Most importantly, we promise you won't have more FUN at any other photo event. Walk away with a RENEWED PASSION for the art of image making. Don't miss your opportunity to CONNECT!
A letter from the staff of PSPF:
Dear Guest:
We realize many of our attendees are concerned about the current financial situation our country is facing. We know you are going to have to carefully select the ways you spend your hard-earned money in the coming months. However, even in a recession we know that education, improving your craft, studying with master photographers, attending informative and cutting edge Seminars and Symposiums, networking and showing your work to experts and those who can give you work is an important priority. We think the program for Connect 09 is the best we've ever offered and we want to help make it easier for you to attend.
It's for this reason that we would like to try to help relieve the stress a little bit in the only way we can: For those who would like to sign up for Connect 09, we have added an option in our registration software to allow you to pay half this month and half next month (30 days later from the date of your registration). As the festival takes place next March, we can only offer this feature through the month of January. This will allow you to reserve your place in our Workshops, Seminars, Portfolio Reviews and Tech Consultations and spread the payment over two months.
Several weeks ago we let you know that we have negotiated excellent rates with our new sponsor, the Palm Springs HYATT REGENCY which will become the Attendee Headquarters for the festival and the venue for all of our Seminars and Tech Consultations. They have offered our attendees a suite at the Hyatt Regency Suites for only $129 per night while the supply lasts. To reserve now, you may call (1-800) 233-1234 or (1-760)969-6006. Ask for the Palm Springs Photo Festival special discount. The CODE to give is "PSPF." In addition, they've even agreed to maintain this special rate for those who decide to stay the weekend following the festival and 24-hour parking is just $6.00 per day. They also offer complimentary airport shuttles.
Another hotel with which we have negotiated great discounts (rooms at $99 for Kings & Double /Doubles (two double beds) is the Palm Mountain Hotel, just one block from our festival headquarters. To book your room you may call 1-800622-9451. Give them "PSPF" as the discount code.
In addition to these arrangements with the Hyatt and Palm Mountain, we've also negotiated an excellent lower cost group rate at the nearby Comfort Inn. They have set aside a block of rooms with either a King or two Queen beds for just $80 per night. If this is a better fit for your budget, please call them directly at (888-322-1997) or (760) 778-3699. Just ask for the Palm Springs Photo Festival discount - and give them the following special code: 5410.
No rental car is necessary if you stay at one of these three preferred hotels.
Reserve your place at Connect 09 now and walk away with a RENEWED PASSION for the art of image making. This is a gift you can give yourself that will have far-reaching consequences. Positively shape 2009 for yourself. Meet the people you need to know and have an intense and fun week with your friends and members of your photography community.

If you don't find everything you need on our website, you are invited to call us at 1.800.928.8314 or email us at info@palmspringsphotofestival.com.
Don't miss your opportunity to CONNECT!

A new photography contest that gives back to various causes is now accepting submissions. It's the Photographers Giving Back Award. To participate in The PGB Photo Award
and compete for $30,000 all you have to do is open an account.
The Photographers Giving Back Photo Award was founded in Sweden in 2008. The purpose of this competition is to enhance journalistic photography and to strengthen the position for the professional photographer. It is also intended to inspire young and new photographers and get more people interested in photography.
Both professional and amateur photographers are welcome to compete in The PGB Photo Award.
For more information, please visit www.thepgbphotoaward.com

The Aftermath Project has awarded its annual $25,000 grant to photographer Asim Rafiqui, who plans to use the grant to fund a project on religious culture in India.
"Asim Rafiqui's work as a photographer aims to recover this lost sense of religious pluralism and tolerance for a 21st century India," says Aftermath judge Darius Himes of Radius Books in a statement announcing the award. "He states that he is 'using photography not only as a means of evidence, but also as a vessel for the imagination.'"
Rafiqui lives in Sweden and the U.S. His project is especially timely after the recent terrorist attacks in Mumbai.
Aftermath's $15,000 grant is going to Louie Palu of Canada, for his project on American war veterans called "Home Front." Palu's project compares the experiences of veterans of the wars in Vietnam, Afghanistan and Iraq.
Photographer Maggie Steber, another Aftermath judge, says of Palu, "He trains his camera on the truth: men coming in from battle, shell-shocked, dismayed, broken-hearted, destroyed, and yet somehow holding on to the humanity that gets whittled down each day with military patrols. His portraits of American soldiers are as honest and raw as they come."
The Aftermath Project judges also named six finalists this year, from 142 applications:
- Rodrigo Abd of Guatemala for "Reclaiming the dead: mass graves in Guatemala, a
story only partially told."
- Andrea Bruce of the U.S. for "Unseen Iraq."
- David Monteleone of Italy for "Russian Caucasus."
- Saiful Huq Omi of Bangladesh for "The Disowned and the Denied: the Rohingya
Refugees in Bangladesh."
- Donald Weber of Canada for "Firewalk: Life with Cluster Bombs in South Lebanon."
- Ami Vitale of the U.S. for "Kashmir: Lifting the Veil."
The Aftermath Project was founded by photojournalist Sara Terry. The grants were first awarded in 2006. The Aftermath Project and Sara Terry were awarded the 2008 Humanitarian Award during the 6th Annual Lucie Awards.