In addition to financial support, Maine Media Workshops have generously provided complimentary admission to a workshop for each grant recipient. It's easy to be eligible, simply become a member of the Lucie Foundation at the Student Level for $25.00 or the Individual Level for $50.00, and submit your application online by January 25th. All projects will be considered.
For more information about the program, please click here.

To become a member, click here.
A new photo competition introduced by Photoinduced.com entitled "Let's Do Lunch" will help raise money for local food banks and dole out some cool prizes to the winners too!
Categories incude Friends and Family, Down to Business, Street and Solo.
To learn more, please click on the graphic below. Deadline to submit is January 20th.




The Lucie Foundation is honored to participate in this year's Los Angeles Art Show. It's our first opportunity to do so and we are delighted to present the installation Group LA 2008: An Intimate View of Los Angeles through the eyes of 30 photographers, conceived and directed by Helen K. Garber. Each participating photographer has marked their territory by documenting the neighborhood in which they have chosen to reside, work or play to produce a narrative portrait - all of which have been formatted for simultaneous looping, modular digital display which will deliver thirty unique, up-to-minute perspectives of this great city.

This exhibition/installation had it's debut at MINARC/GALLERY SKART during the inaugural Month of Photography Los Angeles in April 2009.

The Los Angeles Art Show is an encyclopedic art event that will feature more than 130 international exhibitors, an engaging lecture series and special events program, a sculpture garden, and special exhibit spaces, and fun-filled evening mixers.
The 2010 Opening Night Preview will take place on Wednesday, January 20th, to benefit the Los Angeles County Museum of Art and Inner City Arts.
The Los Angeles Art Show continues to be the largest art fair on the West Coast and a must-see for both the art connoisseur and the arts-curious. With 2009 posting a record-breaking attendance of 35,000 visitors and exceptional sales, the 2010 show promises to be larger and more encompassing. Works sold at the 2009 show include pieces by: Charles Partridge Adams, Jasper Johns, Robert Motherwell, Rembrandt, Ed Ruscha, Julian Schnabel & Emerson Woelffer.
At the upcoming 2010 show, cutting-edge and emerging artists' works will be on display alongside old century masterpieces with prices reaching into the millions. With more than 15,000 significant paintings, sculptures, photographs, drawings and prints on exhibit and available for purchase, the Los Angeles Art Show brings together the West Coast art community for an internationally attended five-day celebration of the arts.

For tickets, please click here.




GRAMMY FOUNDATION'S 12TH ANNUAL MUSIC PRESERVATION EVENT ON JANUARY 28TH.

Last year, our friends at the Grammy Foundation presented their annual music preservation event celebrating photography! This year, this wonderful musical event will celebrate television. A limited number of seats are now available for purchase. You won't be disappointed. A wonderful lineup of Grammy-nominated and Grammy-winning musicians will be performing. This is one in a series of events for Grammy Week, don't miss out.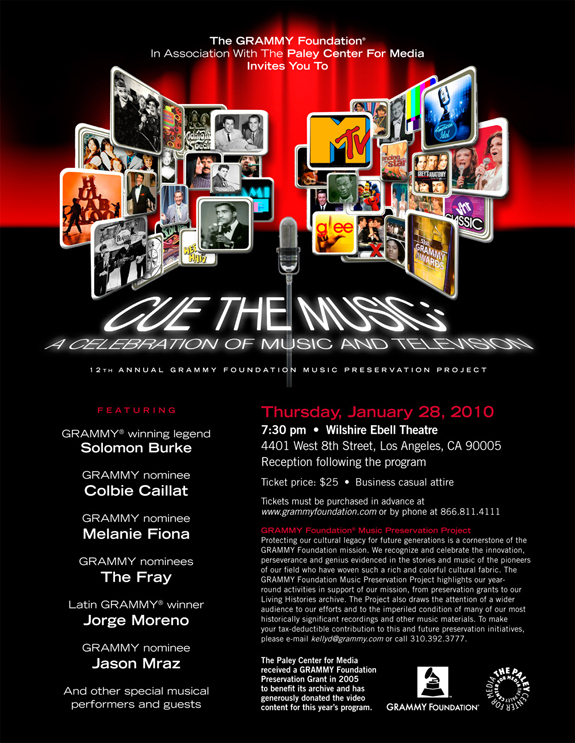 For tickets, please click here.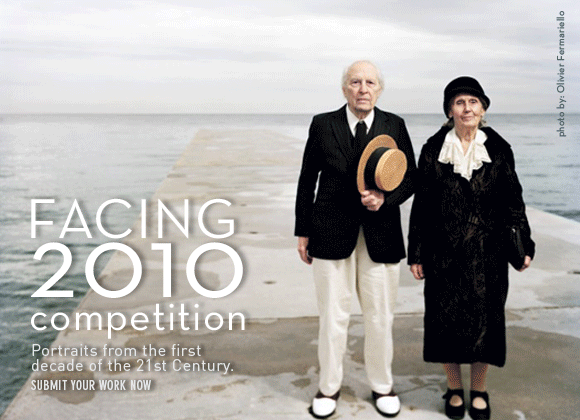 Facing 2010 is a reflection upon the faces of people within the first decade of the 21st century. We want to see the trials, triumphs, lessons and struggles through the expression of individuals.

Your portrait must be shot between the dates of January 1, 2000 to present. Photographs that were shot before January 1, 2000 will be disqualified and are not eligible.

Prizes:
First Place winner will receive $2,000 cash prize
Second Place winner will receive $1,000 cash prize
Third Place winner will receive $500 cash prize.

Submit your best "face" today in the IPA's first themed competition.

Deadline: January 15, 2010
Entry Fee: Single or Series at $50.00

Click Here to Enter Now



Alexandra Niki, Editor-In-Chief of Resource Magazine, has organized an incredible event to help fight breast cancer, one case a a time. Dozens of incredible image makers have donated prints to this worthy cause. Some of the donating photographers include John Delaney, Walter Chin, Vincent Dixon, Martin Schoeller, Vincent Laforet and many, many more.
If you can't get to the event, check out the online catalogue here.