The 7th annual International Photography Awards competition is now coming to a close. The final deadline to submit is this Saturday, June 20th. To avoid a 10% late fee, please submit your photos by then.
For those of you who need a little extra time, we'll keep the competition open until June 30th, but you'll incur a 10% late fee...so submit now at www.photoawards.com

And...an extra bonus video clip of the 2008 IPA winners backstage at the Lucies, check it out here. To see their winning work, click here.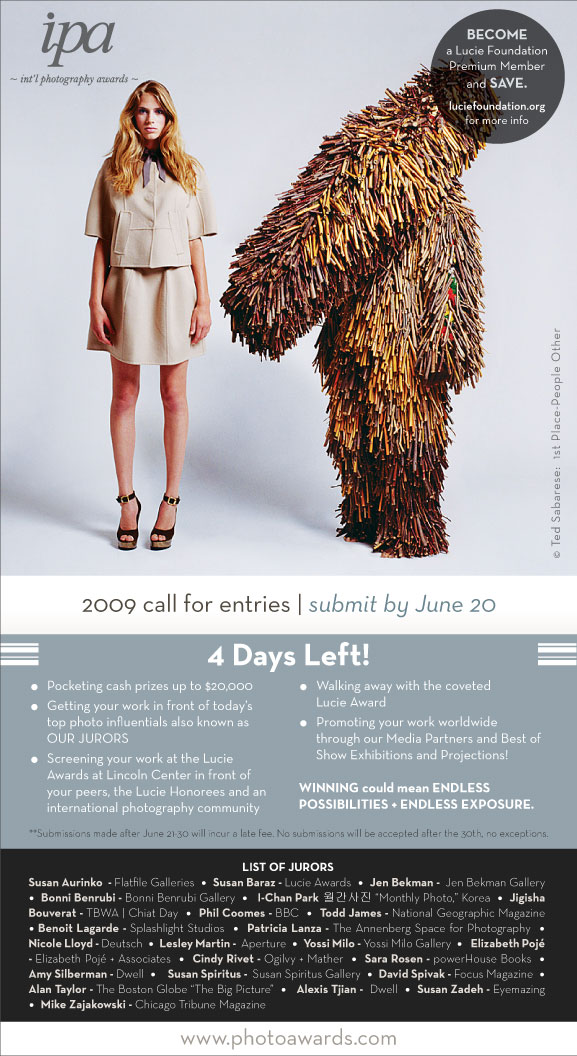 On the successful heels of the Month of Photography Los Angeles, we've decided to take advantage of our great weather and continue the outdoor projection series introduced during the inaugural MOPLA this past April.

The super cool, new and creative retail space called Space15Twenty will host the Lucie Foundation's Pro'jekt LA Summer Series every third Thursday of the month starting July 15.
Stay tuned for the roster of photographers that we'll present...



We are fine-tuning the details and are nearly ready to unveil The Lucie Foundation's Scholarship and Mentor programs to the public. In the short months since the formation of the Foundation (October 2008), we've produced a number of relevant programs for the enthusiast to the seasoned professionals, including a Lucie Lectures WEST during MOPLA, the Month of Photography Los Angeles, the Lucie Review LA aka FRESH LOOK - a Portfolio Review and FRESH FAIRS - a juried photography fair.

We are thrilled and honored to champion photography through a variety of programs and are equally thrilled to have the support of a new member base of individuals who see the value in our work. Please consider becoming a member now to take advantage of the benefits offered to our Foundation members.

For more information, please click here.