THE SPACE FOR PHOTOGRAPHY OPENS IN LOS ANGELES ON MARCH 27, 2009.

The Annenberg Foundation announces the opening exhibit for the Annenberg Space for Photography, a community space dedicated to both digital images and print photography in Los Angeles, California to open Friday, March 27, 2009.

The premiere show, entitled "L8S ANG3LES," will be comprised of images from eight Los Angeles-based photographers in the genres of fine art, architecture, documentary, fashion, photojournalism and celebrity portraits. The artists contributing to the group show are among the most respected in their fields-- John Baldessari, Catherine Opie, Greg Gorman, Douglas Kirkland, Tim Street-Porter, Julius Shulman, Lauren Greenfield, and Carolyn Cole. The exhibit will also include work from three Los Angeles Times staff photographers depicting life in this city; Lawrence Ho, Genaro Molina, and Kirk McKoy.

Following a gala premiere on March 25, the exhibit will open to the public on Friday, March 27 and close on June 20, 2009. Located on the former site of the Shubert Theater, the Photography Space is a 10,000 square-foot facility. The dynamic exhibition space will feature, along with a traditional print gallery, a state-of-the-art digital presentation system capable of sharing an unprecedented number of photographs with the public in large and high-resolution format. This system can also simultaneously show adjacent video of the photographers discussing their work.

The selected work of the artists, though greatly contrasting in style and tone, all speak to the mission of the Photography Space, which is to celebrate photography as an art form and present images focused on the human condition. Anne Wilkes Tucker, Gus and Lyndall Wortham Curator of Photography from the Museum of Fine Arts in Houston, served as Special Advisor for the opening installation. Of the artists featured in "L8S ANG3LES" Ms. Tucker comments, "The vision of these photographers reflects the vast talent and energy that have made Los Angeles into a world class city in less than a century."

Annenberg Foundation Vice President, Wallis Annenberg, commented, "I have a passion for photography and a great pride in the fine city of Los Angeles. I am thrilled that artists of this magnitude are taking part in our inaugural show and know that through their brilliance they will bring great inspiration to the visitors of this new space which we are creating and operating as a gift to the community."
The Photography Space will also offer the public programs, which will include lectures and workshops related to "L8S ANG3LES." Online registration for all events, unless otherwise noted, will begin March 27, 2009 at www.annenbergspaceforphotography.org.




LUCIE FOUNDATION ANNOUNCES LUCIE REVIEW LA - FRESH LOOK - A JURIED PORTFOLIO REVIEW.
The Lucie Review LA "Fresh Look" is a two-day portfolio review during the inaugural Month of Photography Los Angeles (MOPLA), advanced by The Lucie Foundation. This review is a one-on-one comprehensive conversation between renowned professionals in the industry and photographers. "Fresh Look" aims to bring together gallery directors, curators, photo editors, art directors, publishers and agents to offer an array of experts in their photographic fields.
REVIEW DATES:

DAY 1
$250 for six, twenty-minute reviews
Friday, April 24, 2009
10 a.m. to 2:35 p.m.
Location - HPP Studios, Culver City

DAY 2
$250 for six, twenty-minute reviews
Saturday, April 25, 2009
10 a.m. to 2:35 p.m.
Location - HPP Studios, Culver City
Deadline to Submit: Delivered no later than March 27th.
** There is a $50 submission fee to be considered. If selected during the preliminary judging process, the initial $50 will be deducted from the $250 fee.
Click here for Fresh Look Submission Form. For More Information, click freshlook.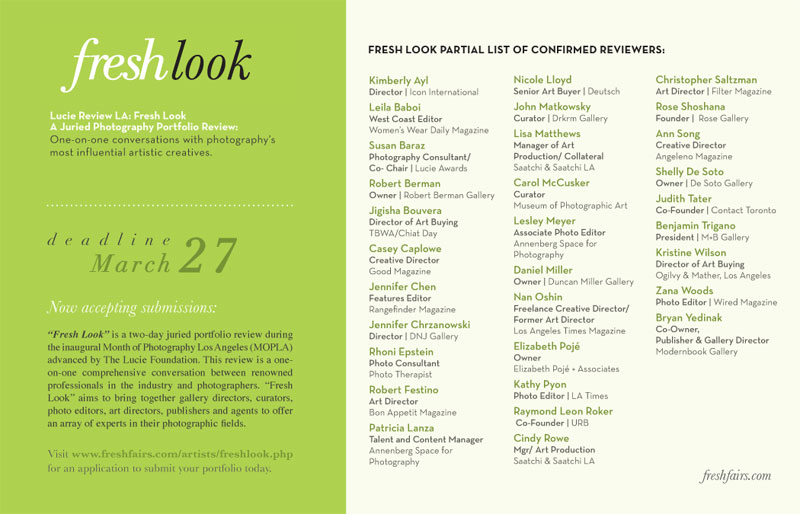 LOOKING FOR A NEW WAY TO REACH THE COLLECTING AUDIENCE? FRESH FAIR IS YOUR ANSWER.
Fresh Fair is a photography fair designed to showcase both new & established artists to collectors and gallery representatives from around the world. It is juried in advance to ensure quality work is exhibited and excellent standards are achieved. Fresh Fair presents the opportunity to sell your work directly to the public and collectors alike, and offers a one-of-a-kind glimpse into the latest trends in photography.
Fresh Fair: April 24th-26th
Location: Los Angeles, California
Deadline to Submit: Delivered no later than March 25th
For More Information, visit www.freshfairs.com. Click here for Fresh Fair Submission Form.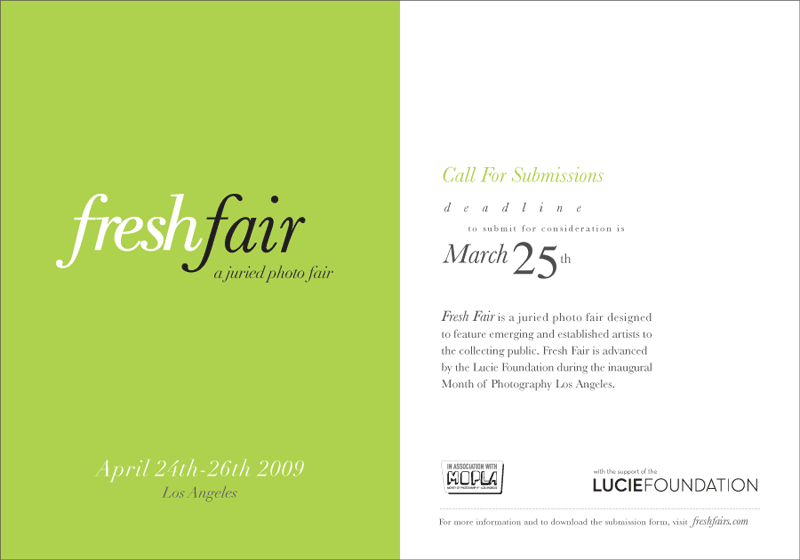 BLURB ANNOUNCES YEAR 2 OF PHOTOGRAPHY.BOOK.NOW
Photography.Book.Now 2009 International Juried Competition
Photography.Book.Now is a celebration of the most creative, most innovative, and finest photography books – and the people behind them. Now in its second year, this international juried book competition is an opportunity for photographers of all stripes to showcase their work to a world-renowned panel of judges, and take a shot at a $25K grand prize. Photography books have become a natural extension to the photographic process, and are shaping the future of photography as we know it. Long gone are the days where only professional and internationally renowned photographers could publish their work. With print on demand technologies, all photographers can create bound collections of their work, while retaining full control of the creative process – forever changing the face of publishing. Photography.Book.Now salutes the innovators of this newly accessible medium, and the great work created as a result.
Categories include Fine Art, Editorial and Commercial.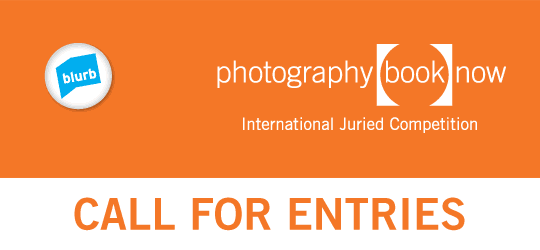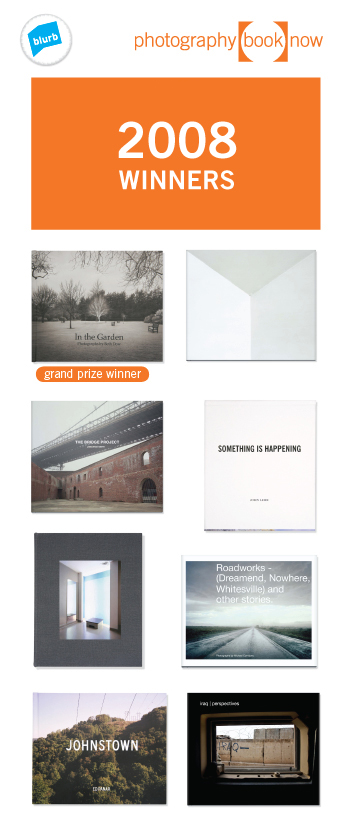 Deadline is July 16 but don't wait. Submit your book now!

THE PHOTOWORKSHOP.COM PHOTOGRAPHY AND DIGITAL IMAGING COMPETITION.
Call for Entries - The PHOTOWORKSHOP.COM Photography and Digital Imaging Competition
Over $17,000 in prizes and opportunities to receive exposure and recognition on the covers and inside pages of Rangefinder and AfterCapture magazines.
PHOTOWORKSHOP.COM is announcing a call for entries for our PHOTOWORKSHOP.COM Photography and Digital Imaging Competition. Enter your best images for a chance to win international exposure and some great prizes. This contest is open to all photographers worldwide, amateur and professional, and the subject matter is open!
We are looking for your best images in two categories: 1) Straight Photography/Lightly Manipulated; and 2) Photo Illustration. We are offering over $17,000 in prizes to the top winners in each category. Selected images from each category will appear on the covers and inside pages of Rangefinder and After Capture magazines.