The inaugural Month of Photography Los Angeles (MOPLA) wraps up 4 weeks of stimulating programming presented in multiple venues and produced by the Lucie Foundation. The site of the closing celebration will be the final in the series of four outdoor projections - PRO'JEKT LA: In the Stills of the Night - Portraits of the LA famous and infamous featuring Gary Lee Boas, Patrick Hoelck and Mark Hunter aka The Cobrasnake, Friday May 1, at Digital Fusion, 3542 Hayden Avenue, Culver City, CA 90232. 7PM-10PM.
MOPLA provides something to suit all levels of photographers and collectors. The calendar of events includes exhibitions, lectures, outdoor projections, portfolio reviews, art walks and fairs. The venues have included Bergamot Station, The Pacific Design Center, photography studios including Anthony Nex Studio, Pier 59, High Profile Productions, photo labs as A&I, Digital Fusion and many galleries including Paul Kopeikin, Robert Berman, Frank Pictures Gallery, Duncan Miller.
As an inclusive event, MOPLA aims to inspire and engage the professional, enthusiast, emerging artist and collector, both young and seasoned. This effort will organize and galvanize the already thriving photography and art community in LA.
This past weekend showcased photographer lectures by Andrew Southam, Art Streiber, Melvin Sokolsky and Robert Farber. Earlier lectures this month included Gerd Ludwig, Herman Leonard, and B+. Other lectures highlighted the expertise of photography consultants, magazine editors and curators.
Exhibitions at the Pacific Design Center still open to the viewing public include Tim Mantoani, Behind Photographs, Photo District News, Emerging 30 Show, B+, GHOST NOTES, Mark Edward Harris, The AXIS OF EVIL (Inside North Korea, Inside Iran), John Delaney, GOLDEN EAGLE HUNTERS of MONGOLIA, Jim McHugh, Remarkable: Places + Faces, Markus Klinko & Indrani, ICONS.
MOPLA co-founder Cat Jimenez commented, "With the help of the entire Los Angeles photographic community, we have seen an unprecedented out pouring of appreciation for the iconic images and image makers of our time. Students, seasoned photographers, collectors and enthusiasts gathered at the Annenberg, the Getty, at photo studios, and galleries from Santa Monica to downtown. It has been a most extraordinary time." Hossein Farmani, co-founder of MOPLA added, "To witness the presence of literally thousands of attendees over the month and to have the generous support of so many - Smashbox Studios, Fleshtone, trusted.com, Hance Partners custom imaging lab, Flaunt Magazine, Opus and the Pacific Design Center just to name a few - is an indicator of the many shoulders that MOPLA stood on for its very first run."



It's been one stellar year for Farmani Gallery, and to celebrate it's one year anniversary in New York's DUMBO Photo District, the gallery will showcase the work of award-winning photographer Jesse Diamond, debuting his new body of work entitled Drive.

Please join us as we celebrate this great photographer, our one year anniversary and the 2nd installment of the New York Photo Festival. It's going to be an exciting week of photography in DUMBO.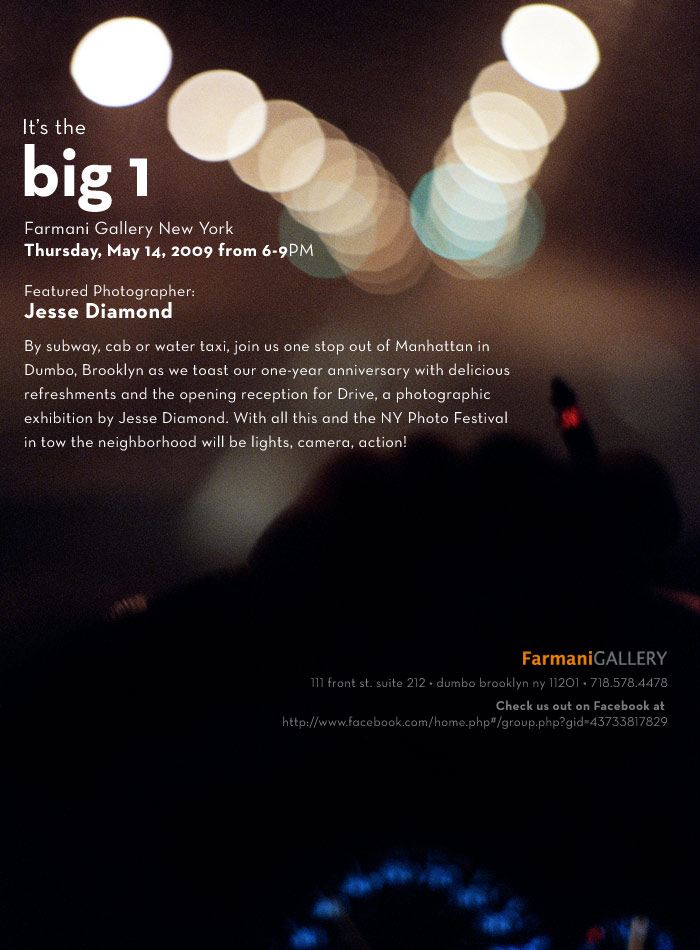 As part of its commitment to pushing the boundaries of contemporary photography, festival organizers and co-founders Daniel Power and Frank Evers have selected the following curators for NYPH'09: William A. Ewing, Chris Boot, Jody Quon, and Jon Levy.
These world-renowned curators all bring their personal visions of the most provocative and intriguing developments in contemporary photography to the main pavilions of the 2009 edition of The New York Photo Festival. "The NYPH'09 Festival Curators were selected for their decisive and innovative approaches to curating, editing, sequencing, and showcasing the varied work of the medium in ways that continually surprise and inspire those of us in the photography industry and the creative cultural public at large," say Power and Evers.
For more information or to purchase tickets, please click here.